First, thanks for understanding on my extended absence.  Things have been busy at work, and as you know I only do this in my spare time– but this one is a good one:
About 24 hours ago, I sent a letter regarding Dog Beach to Newport's City Council and copied in reporters from the DailyPilot, OCRegister, Newport Indy, and the OC Weekly.  It's a bit of a read, but it's worth it:
===========================
All,
Please read this email in its entirety as I do not wish to embarrass our city or our city council.
I am copying media not because this email is a story itself, but because the council has the option of making it become one, and the public should know the full history from the start.
I think there has been some confusion here, as Mayor Dixon told the LA Times's Daily Pilot she had received "dozens of emails from residents seeking relief", but after a PRAR was completed on this:


it turned out that neither "dozens" nor "residents" was correct.  There were only 4 email threads and they were all from one resident opposed to Dog Beach.  One resident.  Those emails are attached, here (text files #1, 2, 3, and 5)
The other two emails were from supporters of Dog Beach (text files #4 and 6).  I am unsure how one can confuse 4 emails from one person with "dozens of emails from residents" (both plural), but I think we can all agree that the statement was entirely inaccurate, to put it mildly.  Later, of course, the story changed from PRAR-subject emails into untraceable "phone calls and public meetings".  I have attended all the Town Hall meetings on the email invite list (except one) and this was never once brought up even remotely.  Perhaps all the dozens of people seeking relief made that one meeting that I missed, though.
After these… inaccurate… statements caused a shift to move forward with government intrusion into Dog Beach, the city conducted a survey about this on Dog Beach through the city's Facebook page.
The survey was launched on 12/8.
On 12/28, the anti-dog tally had just 4 votes.
Inexplicably, when the poll closed on January 7th, the anti-dog vote had risen from 4 to 27– quite an impressive rise!  Suspiciously impressive, in fact.
So I looked into it.
The site itself states that there were 210 total votes made by 187 people.
Yeah, you read that correctly.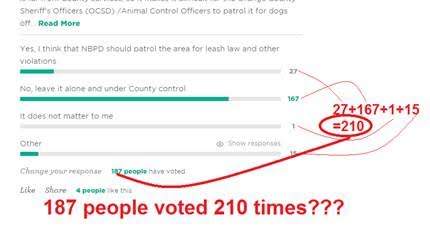 I compared the 187 number to the number of people listed when you click on it.  187 people are all that are listed.  Not 210.
Obviously, this problematic, as it means that there were 23 votes that materialized without being linked to an actual human being.
Incidentally, this is the exact same number that the anti-dog votes increased by—virtually overnight.
Naturally, citizens do not take kindly to these type of vote-counting errors which seem to occur with great frequency in Newport (in fact, even after asking for my vote to be counted on the parking pass debacle– well within the timeline set by the city– the city still denied me my right to vote.  As you recall, I brought this up in public session… twice [even during that timeline]).  Needless to say, these anonymous polls cause trust issues, especially when 187 people generate 210 votes.  To solve these trust issues, I created an alternative way for our citizens to voice their opinion: I set up an online petition which make the names public for all to see.  You know– transparency.
Right now, even with the overwhelming negative response to growing government in the government's own poll, I have collected over 3,700 signatures asking to leave the Dog Beach situation as-is.
Judging by Mayor Dixons responses to citizens as shown in my PRAR request, she does not care about anyone whose name she doesn't recognize ("I do not recognize the names of many of the residents […] so I am not certain the folks are […] even residents of Newport Beach.").  I find this statement disheartening, to say the least.  There were also prior indications that people thought these names could be total fabrications, as Aaron Harp said in the last session where I presented signatures (at that time, it was when then-Mayor Pro Tem Dixon was proposing a discussion to strip property rights from business owners open past 11pm in an effort to thwart what she proclaimed to be hundreds of licensed alcohol-serving establishments on the peninsula open after 11pm… of which it turned out there were less than 20, most of those were restaurants, and some didn't even serve alcohol, despite their license to do so).
To put everyone's mind at ease about the authenticity of the citizens who signed this petition, to hopefully allow you all to take these citizen petitions more seriously in the future, and to be sure that all upstream government entities know that Newport saying they are doing a bad job, despite overwhelming public support for the job that OCParks and OC Supervisors are doing here, if this item makes the agenda, I will be ethically forced to do the following:
Write all the County Supervisors, OC Parks commissioners, and the Coastal Commission, giving them a heads-up as to what Newport is proposing.  I think it is only fair and right to allow them to be aware of what Newport is talking about which is in their purview, as I am sure you will agree.
On that email, I will blind-copy the thousands residents who have signed the petition, and I will encourage them to not just "Reply All" to the email—ensuring the delivery of thousands of emails to those officials—but also to continue to write until their concerns are responded to.  I believe this is only fair and right to allow people to be engaged with their politicians, as I am sure you will agree.
I will also, naturally, inform them of when the Study Session meeting is, so that they can attend and voice their concerns.  Even if 5% of petitioners are able to make the during-work-hours study session, that will be a considerable crowd, even for our quarter-billion-dollar city hall—as I'm sure you will agree.
Naturally, if the city goes forward with this and forces me to alert these thousands of people who have indicated their displeasure with the city getting involved with spending taxpayer money to dismantle a zero-dollar amenity to Newport, the email inundation will not be pleasant for anyone involved– including myself, as my email will also be a recipient.  I expect that our Board of Supervisors, the Coastal Commission, and our OC Parks reps will not be pleased with Newport Beach politicians batting around such a wildly unpopular idea.
I hope none of you will consider bringing this clearly heated issue with overwhelming opposition (and only one vocal supporter) up to a Study Session, as this entire circus can be easily avoided by simply not wasting tax dollars and practicing the small government principals which you all loudly proclaim to have.
Thanks for fighting to keep government out of our lives,
Mike
===========================
If you wish to sign the petition to save Newport's last Dog Beach, you can do so here:
Your email address will not be sold, shared, or spammed.
Supporters:

Latest Signatures
6,361
Andrea Downs
Oct 12, 2018
6,360
Frank Lozano
Sep 23, 2018
6,359
Gregory Severson
Sep 23, 2018
6,358
Catherine Severson
Sep 23, 2018
6,357
Traci Aegerter
Sep 20, 2018
6,356
Amanda Hoffenberg
Sep 10, 2018
6,355
Susan Costanzo
Sep 10, 2018
6,354
Dane Delany
Sep 08, 2018
6,353
Douglas Cotton
Sep 07, 2018
6,352
Robert Ogan
Sep 02, 2018
6,351
Jill Igan
Sep 02, 2018
6,350
Chuck Jensen
Sep 01, 2018
6,349
Allison McDuffie
Aug 31, 2018
6,348
Richelle Moodie
Aug 31, 2018
6,347
Rookie Castel
Aug 31, 2018
6,346
Dianna Owh
Aug 30, 2018
6,345
Chelsea Glass
Aug 29, 2018
6,344
Taylor Geil
Aug 29, 2018
6,343
Melissa Stewart
Aug 29, 2018
6,342
Stacey Crosby
Aug 29, 2018
6,341
Katysara Farsani
Aug 28, 2018
6,340
Lori Jones
Aug 28, 2018
6,339
Linda Richarson
Aug 28, 2018
6,338
Sabra Ritter
Aug 28, 2018
6,337
Eunice Gonzalez
Aug 28, 2018
6,336
Claudia Sinnott
Aug 28, 2018
6,335
Sue Ruby
Aug 28, 2018
6,334
Debbie Lynch
Aug 28, 2018
6,333
Heidi Borland
Aug 28, 2018
6,332
Lauren Merenda
Aug 28, 2018
6,331
Nicole Ediss
Aug 28, 2018
6,330
Donald Sprague
Aug 28, 2018
6,329
Caitlin McNulty
Aug 28, 2018
6,328
Katen Lomeli
Aug 28, 2018
6,327
Ling Hung
Aug 28, 2018
6,326
susanne plumley
Aug 28, 2018
6,325
Damon Bennett
Aug 28, 2018
6,324
Carla Fincher
Aug 28, 2018
6,323
Gregg Howe
Aug 28, 2018
6,322
Stephanie Walkowiak
Aug 28, 2018
6,321
Kristina Plumley
Aug 28, 2018
6,320
Ashley Ranieri
Aug 28, 2018
6,319
Robert McKinley
Aug 28, 2018
6,318
Angelina Ortiz
Aug 28, 2018
6,317
Alex Griggs
Aug 28, 2018
6,316
Ivy Griggs
Aug 28, 2018
6,315
Holly Bray
Aug 28, 2018
6,314
Aurora VALLE
Aug 28, 2018
6,313
Chase Crowell
Aug 28, 2018
6,312
Dru Patterson
Aug 28, 2018
< >
Comments
comments