It's time for the 111th Christmas Boat Parade!  Starting on Wednesday, December 18th through Sunday, December 22nd. With fireworks on the first and last days.  FOR THOSE WITH PETS IN THE AREA: Please make sure they are safe during the fireworks, as they are sensitive to loud noises by a crowded beach– and, of course, the fireworks.
PLEASE TAKE NOTE for those who throw Boat Parade Parties, this year will continue the significant changes to the schedule, and in some cases could delay your viewing time by hours.  Instead of beginning at Bay Island as has been tradition for so many years, the boat parade this year will be beginning again like last year at Lido Isle, as the intent is to promote the $40m Marina Park Project as a viewing station, a building whose usage has been wildly under-preforming.
For those planning to travel on the Balboa Peninsula, please consider carpooling, Ubers, biking, and/or arriving early, as traffic and parking are always problematic for this event.
Here are the schedules to plan your parking around:
DATES: December 18, 2018 – December 22, 2018
TIMES: 6:30 pm – 9:00 pm each evening, starting at the tip of Lido Isle, moving along the south side of the island, and then around the bay.  There will be fireworks opening and closing the event, on 6:15pm on Wednesday @ Newport Pier and 9:05pm Sunday @ Balboa Pier.
Wednesday, December 18
6:15pm Fireworks @ Newport Pier
6:30pm Parade begins
Grand Marshalls: Christina Anstead
Thursday, December 19
6:30pm Parade begins
Grand Marshalls: Chamber's Business Person of the Year Jim Walker and Citizen of the Year Nancy Gardner
Friday, December 20
6:30pm Parade begins
Grand Marshall: The Young Americans
Saturday, December 21
6:30pm Parade begins
Grand Marshalls: First Responders
Sunday, December 22
6:30pm Parade begins
9:05pm Fireworks @ Balboa Pier
Grand Marshalls: Corona del Mar High School Drum Line accompanied by Sugar Ray's Stan Frazier
A photo schedule of each route and when the boat parade will be meeting each point around the bay is here: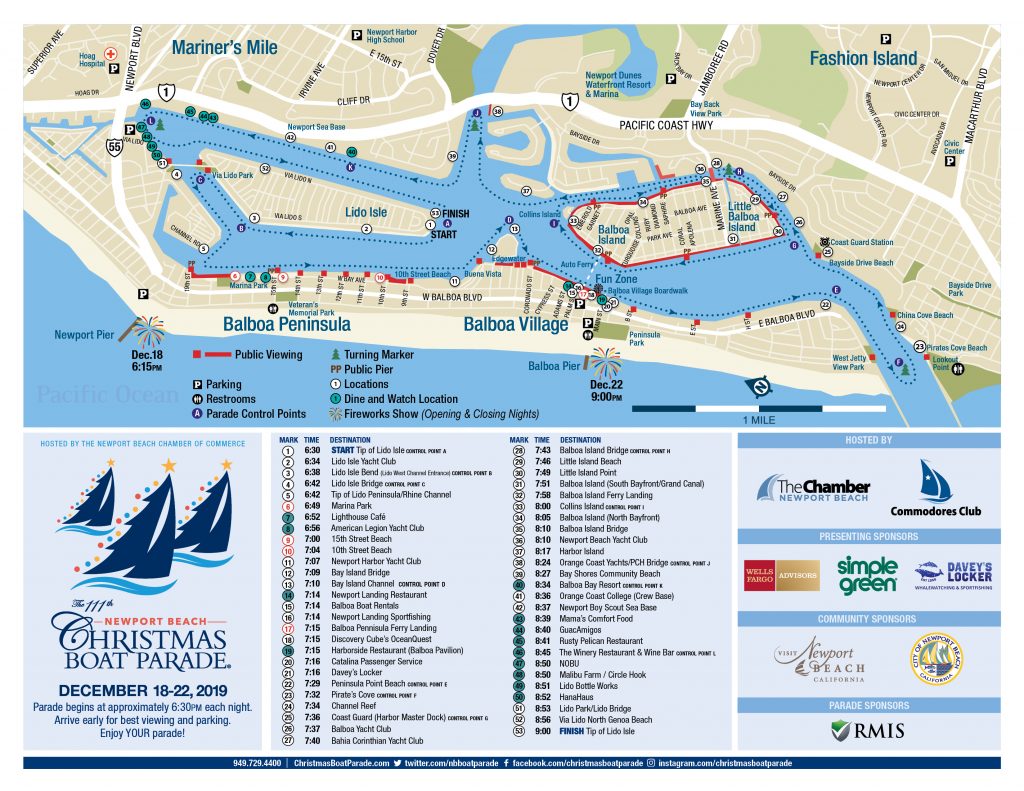 Comments
comments