Councilwoman Diane Dixon, long known for trying to shut down Dog Beach (amongst many other things) has apparently convinced Mayor Duffy Duffield to use taxpayer dollars to recruit Coastal Commission lobbyist Don Schmitz to also lobby the County of Orange to convince them to shut down Dog Beach. Here's a video of him admitting this much in the most recent public city council meeting: https://www.youtube.com/watch?v=l1B9urH2gms
"But wait, isn't Dog Beach official now?", you say?  Yes.  Sort of.  As you can see by the map of municipal land ownership here, the county owns the land circled in red.  Newport owns the land to the East, and Huntington owns the land to the West.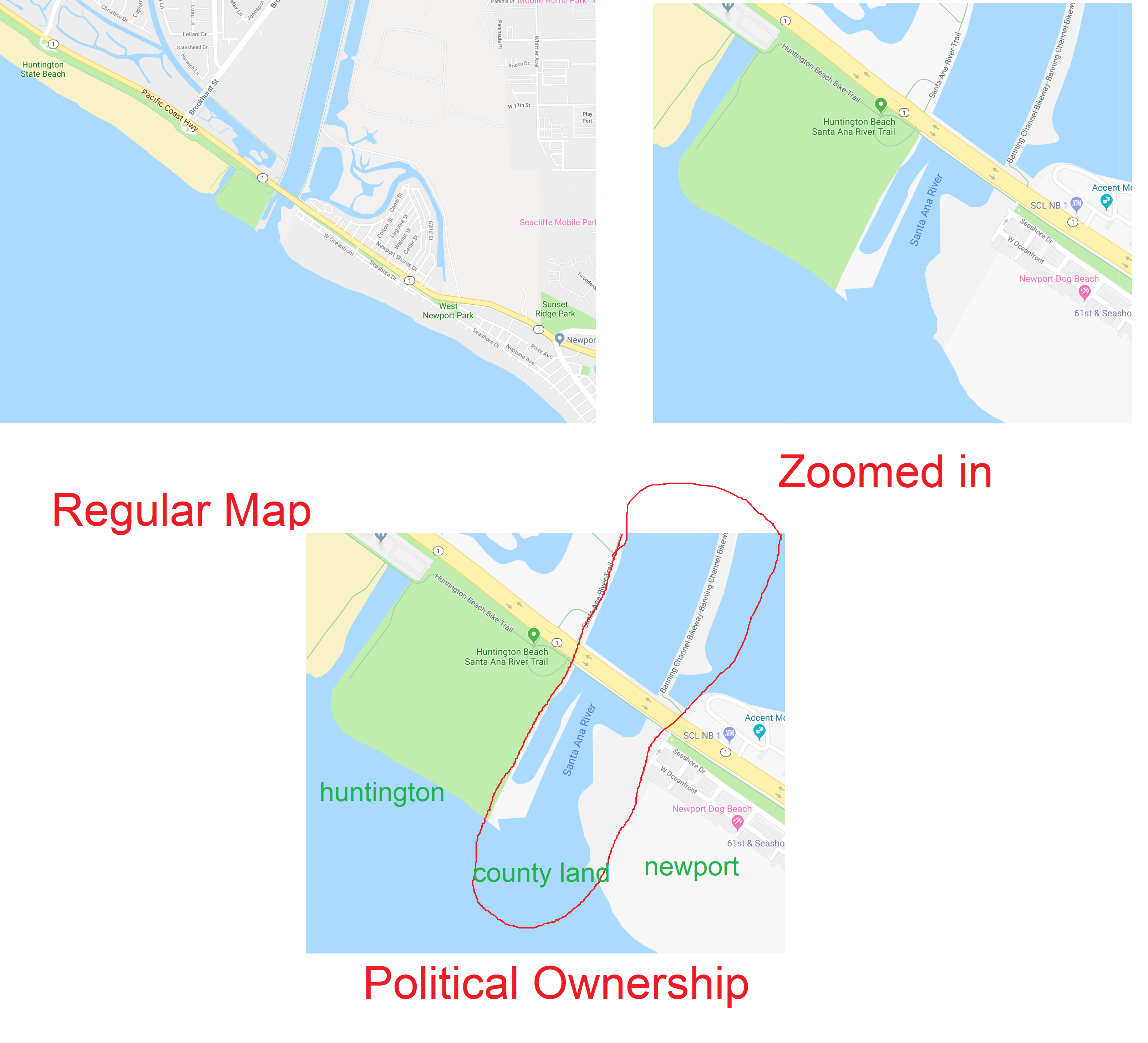 To get to County land, you must enter through the parking lot on Newport's side– and that's where Newport is ticketing people.  Newport has a "no dogs on beach policy" from 10am to 4:30pm, and they are trying to use this policy for the entire city to prohibit transit to and from Dog Beach during daytime hours.  That's illegal, and it's being done through a partnership with Councilwoman Diane Dixon and our current mayor.
While many have long-suspected a bunch of taxpayer dollars were being spent by the city on crony lobbyists to attempt to close Dog Beach, this is the first time we've had confirmation– and it's from the lobbyist himself.
We will be writing up a ballot initiative to save Dog Beach, because apparently we can't trust Diane Dixon.  Shocking, I know.
Your email address will not be sold, shared, or spammed.
Supporters:

Latest Signatures
6,373
Sebastian Ospina
Feb 22, 2019
6,372
Roberta Geier
Dec 12, 2018
6,371
Termeh Djahed
Dec 12, 2018
6,370
Greg Poppe
Dec 12, 2018
6,369
Kimberly Meraz
Dec 12, 2018
6,368
Susan MCMASTER
Dec 11, 2018
6,367
Danii Drown
Dec 11, 2018
6,366
Kim Martinez
Dec 11, 2018
6,365
Kathleen Carell
Dec 11, 2018
6,364
Lee Fallon-Way
Dec 11, 2018
6,363
SCOTT WAY
Dec 11, 2018
6,362
Pam Kerwat
Dec 11, 2018
6,361
Andrea Downs
Oct 12, 2018
6,360
Frank Lozano
Sep 23, 2018
6,359
Gregory Severson
Sep 23, 2018
6,358
Catherine Severson
Sep 23, 2018
6,357
Traci Aegerter
Sep 20, 2018
6,356
Amanda Hoffenberg
Sep 10, 2018
6,355
Susan Costanzo
Sep 10, 2018
6,354
Dane Delany
Sep 08, 2018
6,353
Douglas Cotton
Sep 07, 2018
6,352
Robert Ogan
Sep 02, 2018
6,351
Jill Igan
Sep 02, 2018
6,350
Chuck Jensen
Sep 01, 2018
6,349
Allison McDuffie
Aug 31, 2018
6,348
Richelle Moodie
Aug 31, 2018
6,347
Rookie Castel
Aug 31, 2018
6,346
Dianna Owh
Aug 30, 2018
6,345
Chelsea Glass
Aug 29, 2018
6,344
Taylor Geil
Aug 29, 2018
6,343
Melissa Stewart
Aug 29, 2018
6,342
Stacey Crosby
Aug 29, 2018
6,341
Katysara Farsani
Aug 28, 2018
6,340
Lori Jones
Aug 28, 2018
6,339
Linda Richarson
Aug 28, 2018
6,338
Sabra Ritter
Aug 28, 2018
6,337
Eunice Gonzalez
Aug 28, 2018
6,336
Claudia Sinnott
Aug 28, 2018
6,335
Sue Ruby
Aug 28, 2018
6,334
Debbie Lynch
Aug 28, 2018
6,333
Heidi Borland
Aug 28, 2018
6,332
Lauren Merenda
Aug 28, 2018
6,331
Nicole Ediss
Aug 28, 2018
6,330
Donald Sprague
Aug 28, 2018
6,329
Caitlin McNulty
Aug 28, 2018
6,328
Katen Lomeli
Aug 28, 2018
6,327
Ling Hung
Aug 28, 2018
6,326
susanne plumley
Aug 28, 2018
6,325
Damon Bennett
Aug 28, 2018
6,324
Carla Fincher
Aug 28, 2018
< >
Comments
comments