This writer was out of town last weekend and was unable to dedicate the normal amount of resources to get this story in full, but we still released an article on it as soon as we heard.  Apparently, the OC Register and Daily Pilot were also out of town, because only the Daily Pilot ran a story on it, but it didn't go out until very late on Monday.  As a paper which only publishes a few articles per week, I get the fact that we can miss some of the smaller things.  But a public shooting with a bomb squad in broad daylight in Newport Beach on the busy weekend is something I heard about all the way from my friends wedding out of state.  I'm not sure how this was missed by the other local papers.
Bombsquad, pictured below: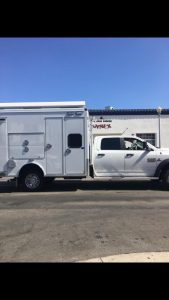 Anyway, here is what we DO know:
On Saturday just before 9:30am, police were called to 21st Street due to "property destruction".  The actual shots were fired at approximately 9am, hitting a married man sitting in his car in the parking lot near the Crab Cooker, watching his project being worked on in the nearby South Coast Shipyard (often known as "Pirate Petes Shipyard").  At this time, it sounds like he was hit by debris (like a shattered window) rather than a bullet, as he was released from the hospital Monday morning.  The "bullet" used was apparently home-made.  At this time, it's unclear if this was a "reload", or an actual casted projectile.  Confidential sources tell me this was home-made "birdshot".
The shooter also had an explosive device with him, which prompted a call to the Bomb Squad.  Upon searching the home of the shooter, Miguel Angel Sandoval, 41, of Lake Forest, I am told that they found hoards of other weapons, including additional bombs.  Sandoval is pictured under arrest, below: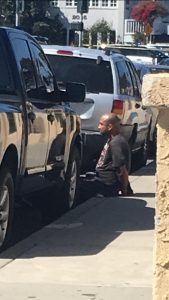 An older gentleman who was helping him move (name unknown) was also handcuffed at about 4pm.  It is unknown if the second person has charges or was simply detained and questioned.  He is pictured, below: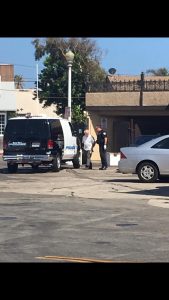 Sandoval was charged with attempted homicide, assault with a deadly weapon, negligent discharge of a firearm, shooting at an inhabited building, resisting an officer, damaging jail property, possessing a firearm as a felon or narcotic drug addict, possession of ammunition as a prohibited possessor, possession of narcotic paraphernalia and possession of a controlled substance (meth) in jail.
Sandoval's bail is set at $2,000,000
Special thanks to Maura Fitzgerald for her photos and story, and to Becca Willis for letting me know about this incident while I was out of town!
Comments
comments