Early Monday morning, a 28ft boat crashed onto the shores of Newport Beach by 12th Street.  Details were scarce at the scene, but locals were all repeating a similar story: The boat was from Dana Point (despite the "San Diego" on the boat tail), and was ejected from Catalina due to running over a buoy.  Running over a buoy is not an uncommon event, and to be ejected from a harbor for doing so likely entails other subsequent offensive actions, if this is correct.
Upon the boats "arrival" along with their four passengers, a "SWIM AREA" buoy was also located nearby. The buoy was stenciled with "C.C.", which could be "Crystal Cove", "China Cove", or "Cherry Cove".  Here's a picture of the prop with rope still very much interwound in it.  Additionally, nearby residents tell me that the boat hit a third buoy just outside of Newport, which likely is what killed the engine and caused the crash.  (Editors note: If you have problems in a boat, the very first thing you should do is kill the engine and drop the anchor.)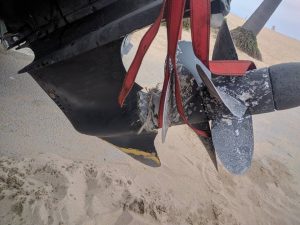 Coastguard support was on-scene mid-day Monday to log the event.
Locals tell me that the captain of the boat knocked on their door at midnight looking for a cigarette after crashing ashore.
The worst news is that the captain of the boat was not even the owner, as the owner had lent the boat to his friend for the weekend.
The salvage effort alone is estimated to be a $10,000 to $12,000 job, and the electronics ruined as the boat was bashed by waves along with the motor which was still entangled with rope means that this boat– likely worth around $25,000 the day before– is only operational as a hull today, assuming it had no significant structural damage from the surf.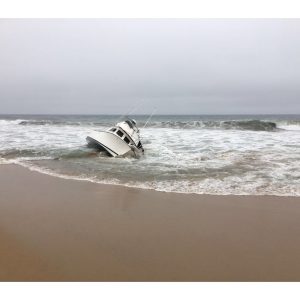 It was first pulled out on a dozer: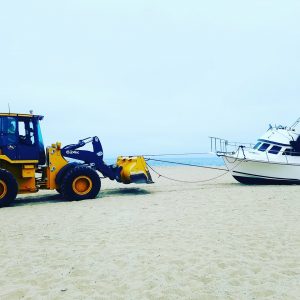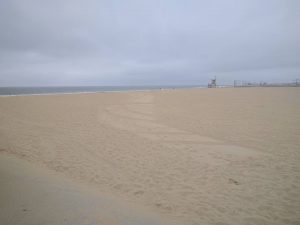 It was staged at the cement boardwalk extension to the ocean:
And was later crane-lifted onto a tow company's towboard:
Special thanks to Main Street Surf Shop's Lori Boyle and Ben Scanlan for the photos and videos for this crazy story!
No word on whether or not the captains name was Michael who rowed his boat ashore.
Comments
comments