The El Niño this year is shaping up to look like it may be the largest El Niño in the history of documented weather.  This article will guide you through what El Niño is and what this particular season may hold in store for us.
WHERE THE NAME COMES FROM: Those who took more than 15 minutes worth of a Spanish class know that El Niño means "Little Boy", but in the context of where, when, and how it was named– By Peruvian fishermen, who noticed warmer ocean water during Christmastime– "The Baby Boy" in this instance means Baby Jesus.  Only in the 1960s did scientists find out that this wasn't just limited to the Peruvian coast, but instead affected a huge swath of the Pacific Ocean, according to William Kessler, a NOAA oceanographer.
WHAT QUALIFIES: Normally, the temperature shift is anything over 1 degree (Fahrenheit).  Typically, El Niños carry a swing of 1 to 3 degrees, affecting the waters of the equatorial central and eastern Pacific Ocean, and the event typically lasts from 9-12 months.  While El Niño happens about every 2-7 years, it prefers not to work on a precise schedule.  🙂
WHEN WAS THE LAST BIG ONE: 1982-1983 was the last big one, but the biggest on record was 1997-1998 which brought a whopping 27 inches of rain, killed an estimated 2,100 globally with a force of 1million hiroshima bombs and left $33billion in property damages.   We had a particularly nasty event in 1939 and 1858 when Orange County was actually struck with a tropical storm/hurricane, resulting in widespread damage (we reported with the video here)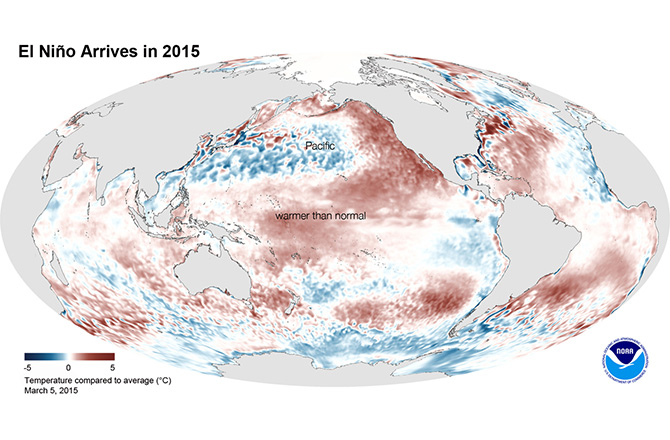 WHAT TO EXPECT: Every El Niño is different, but they all have roughly the same pattern: They will block the normal onshore breezes, replacing them with southerly flows that attract tropical humidity and unstable air that caused lightning strikes, wildfires and flash floods.  Here in Newport where air conditioning is still somewhat rare, this can be problematic for many people, as it robs us of our natural air conditioning.  In short, expect it to feel like Florida through at least October.  Last month was the hottest June on record in the history of the world but was relatively mild here in Newport– so there is no telling the swings in temperatures we may be facing– but be sure that there will be some! 🙂
WILL WE REALLY GET IT THIS YEAR?  Axel Timmermann, oceanography professor sums it up nicely: "I am not aware of any mechanism that would stop this El Niño event", he says. "The fetch of this warm water is enormous, much larger than July 1997."  Now, we've been getting warnings of El Niño for the last 4 years, but what we really need to look to is Mother Nature.  Ask a fisherman whether or not this year has been different, and you'll get an earful of fish stories.
This season has shown Blue Marlin near Catalina (around 1,000 miles north of normal); Bryde's Whales around Dana Point (usually reserved to the tropics); Black Skimmers (a seabird) which are rarely seen as far north as San Diego are now summering near Monterey; millions of red crabs washing ashore right here in Newport, and a never-ending supply of yellowtail.  This El Niño is surely the real deal, according to Mother Nature.
In fact, according to the Washington Post, the present El Niño has a chance to become the most powerful on record, ever– and looking at the stats, they are convincing: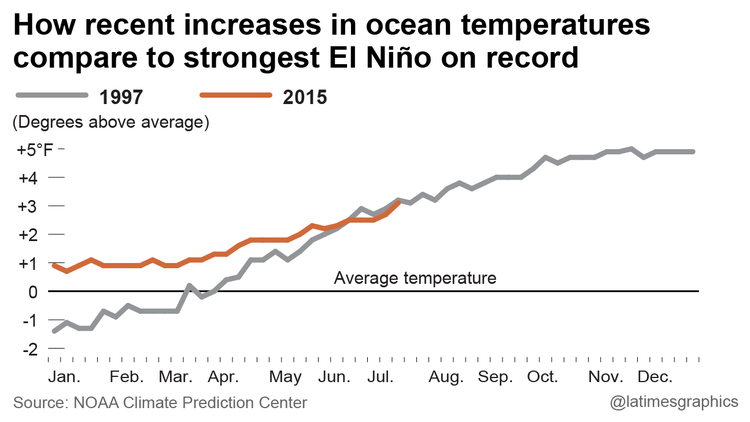 Michael Ventrice, meteorologist for The Weather Company, said the atmospheric footprint of this year's event is a 1-in-1,000 weather pattern.  Columbia's International Research Institute for Climate and Society collectively described the model simulations as "off-the-charts".  NOAA is a bit more reserved, stating that the "forecaster consensus" is for a strong event– but doesn't specify how strong. NOAA's forecast calls for El Niño to persist through the winter (90 percent chance) and early spring (80 percent chance).
WILL IT END OUR DROUGHT? This is the question everyone is asking.  The truth is… everyone thinks so, but nobody really knows.  We've had the wettest July in the last 103 years so far, and we've still got over a week to go, so all signs are positive, but even if it does bring rain, will we be able to capture enough to end the punishing 4-year drought that is currently wreaking havoc lawns?  Well, maybe.  We won't know until January, says Climatologist Bill Patzert of the Caltech-NASA Jet Propulsion Laboratory– but we'll start to see the real rains starting in October.
If you play the futures market, expect virtually all food products to skyrocket.  From rice to anchovies to every fruit imaginable, the next 12 months will bring unnatural weather patterns in long-time areas of farming– and difficulties along with it.
BE PREPARED IN NEWPORT: All and all, be careful if you are near mountains or hills that could have big runoffs centralize in your area and cause flash flooding.  If you are on the peninsula, the islands, or any land with a low sealevel, be prepared for flooding.  Get involved with our civilian emergency response team, CERT, and have a plan in case power goes out for an extended period of time (undergrounding utilities may look pretty, but it does come with tradeoffs.  Repairing underground electricity while it's flooded is difficult).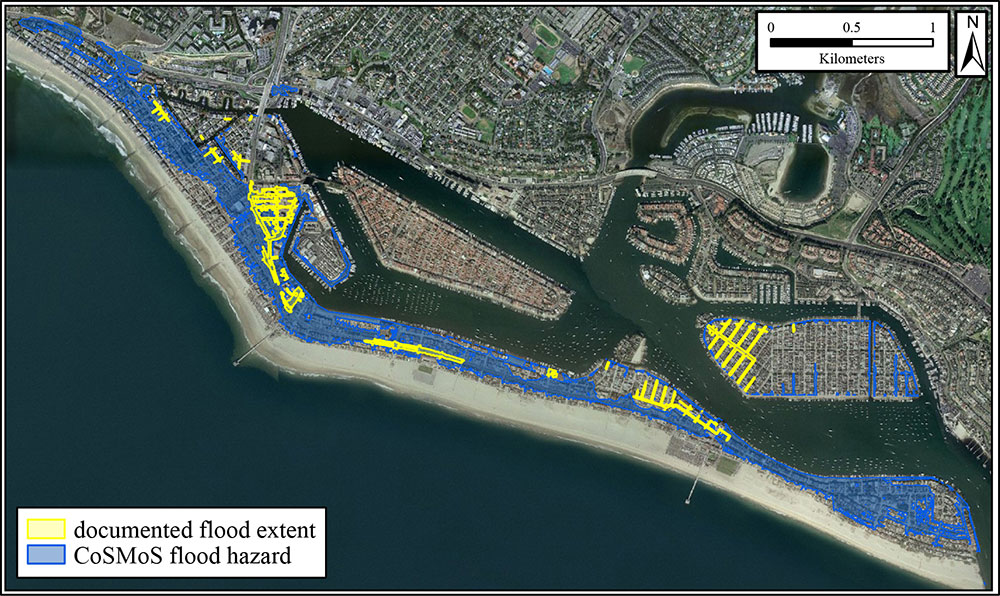 Comments
comments