King Tides are coming tonight to Newport Beach, bringing some of the highest tides of the entire year.
Tonight, some of our largest tides will come, measuring over 6feet, 8 inches.  While less than our historical highs, this could breach some areas of our seawall, causing flooding, or send docks floating off of their pilings.
If you have an older dock with shorter pilings than the newer ones, you can help weigh the dock down down by dragging a few trash cans out to it and filling them up with water.  This will help keep the dock just a few inches lower in the water, and keep your dock from literally floating away.  This knowledge is particularly important for first-time dock owners, who may not have experienced tides like these before.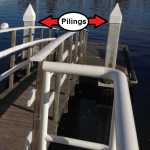 Here are the tide charts for the upcoming week of high tides 6 feet and above, going back to Tuesday for some short-term historical reference:
Day
High
Low
High
Low
Phase
Sunrise
Sunset
Moonrise
Moonset
Tue 27
2:02 AM PDT −0.4 ft
8:26 AM PDT 4.0 ft
1:22 PM PDT 2.1 ft
7:25 PM PDT 6.2 ft
6:22 AM PDT
7:23 PM PDT
3:02 AM PDT
5:38 PM PDT
Wed 28
2:42 AM PDT −0.8 ft
8:59 AM PDT 4.3 ft
2:11 PM PDT 1.7 ft
8:13 PM PDT 6.5 ft
6:22 AM PDT
7:22 PM PDT
4:09 AM PDT
6:30 PM PDT
Thu 29
3:20 AM PDT −1.0 ft
9:33 AM PDT 4.6 ft
2:58 PM PDT 1.3 ft
9:00 PM PDT 6.7 ft
6:23 AM PDT
7:21 PM PDT
5:20 AM PDT
7:17 PM PDT
Fri 30
3:58 AM PDT −1.0 ft
10:08 AM PDT 4.9 ft
3:46 PM PDT 1.0 ft
9:46 PM PDT 6.5 ft
New Moon
6:24 AM PDT
7:19 PM PDT
6:33 AM PDT
7:59 PM PDT
Sat 31
4:36 AM PDT −0.8 ft
10:44 AM PDT 5.2 ft
4:36 PM PDT 0.8 ft
10:34 PM PDT 6.1 ft
6:24 AM PDT
7:18 PM PDT
7:45 AM PDT
8:38 PM PDT
It should make for some great photos– so get those Cameras ready– and if you are in a low-lying area, you may want to get some sand bags, too!
Comments
comments