How could you not like this pup?.  (Click on the link for the full image.)
Do you know someone who is looking for a dog?  Newport has a lot of great dogs in need of great homes and great owners… And we've got the perfect pup for you to rescue who desperately needs a forever home!  BUT WAIT, if you spend the $100 in adoption fees on this cute pup, with our partnership with Just Food for Dogs, you'll also get $100 in dog food… FREE!  From the shelter:
"Older girl about 8 or so. A bit more mellow, so would make a great snuggle partner or lap sitter. Will also run around and play if the mood strikes her. Likes all dogs and all people – very friendly.  She just had a dental cleaning and got a clean bill of health from our vet. She is also freshly groomed with a nice haircut and all, so she is ready to find her family.   She is spayed, fully vaccinated and microchipped"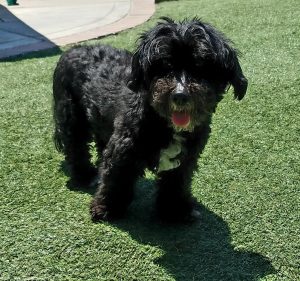 1) Are your dogs all spayed/neutered? 
YES!
2) Are they all microchipped? 
YES!
3) Are they up-to-date with all their vaccinations? 
YES!
4) How much will this cost me? 
Just $100 to adopt this beautiful dog.

Home Free Animal Rescue & Sanctuary

20302 Riverside Drive, Newport Beach, CA 92660
Phone:     (949) 370-2776
E-mail: 
kathy@homefreerescue.org
www.homefreerescue.org
Home Free Animal Rescue & Sanctuary is a registered 501c3 organization and operates out of a facility in Newport Beach.  They provide housing and care for the shelter animals of the City of Newport Beach.  Most of dog rescues come pre-screened from the Orange County shelter on their last day or two, but they have also rescued dogs from Riverside and San Bernardino county shelters.  Home Free Animal Rescue & Sanctuary is not a breed-specific shelter.  Their mission is simple: help dogs in need find their new forever homes.
Comments
comments