The Newport Beach Police Department is seeking the public's assistance in identifying a suspect and a witness for an investigation for Assault with a Deadly Weapon.
The crime occurred on Sunday, May 13, 2018 somewhere near 1:00 a.m. in the area of Newport Blvd & 28th St on Balboa Peninsula.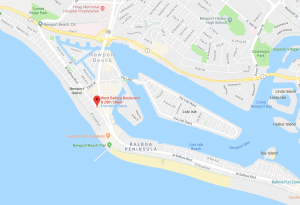 This did not appear to have anything to do with the alcohol-serving establishments in the area.  I spoke with representatives of those establishments, and they were just as curious to find out what happened.
According to statements received by the NBPD, the victim was stabbed by an unknown object during an assault. The victim sustained several stab wounds and is in stable condition.
A witness (pictured) is described as a white male, in his mid-20's, with brown hair, green or blue eyes. He is approximately 6' tall and weighs approximately 200 pounds. At the time of the incident, he was wearing white shorts and a burgundy and white shirt with flip flop style sandals.
The suspect is described as a Hispanic male, in his mid-20's, with "scraggly" hair. He is approximately
5'-08" to 5'-09" tall. At the time of the incident, he was wearing dark clothing, including a hooded sweatshirt.
NBPD Detectives are asking this witness and suspect, or anyone who can help identify them, to come forward to assist in the investigation. They are also seeking any additional witnesses who were in the area at the time of the assault.  Anyone who can offer assistance is encouraged to contact Detective Rick Henry at 949-644-3797. Messages may also be left anonymously on the Police Department's recorded hotline at 1-800-550-NBPD.
Comments
comments