Well, we all know that the peninsula's "Summer" seems to end every year on Labor Day, but to everyone else in the US, today is actually the official last day of summertime.  So if you survived the parking, the traffic, and the tourists jamming up your favorite establishments, those days are over this year (at least until the Boat Parade in December!)
So enjoy "Locals Summer" where our weather remains perfect but the crowds are gone.  Many establishments throughout the peninsula have secret celebrations on this day, but the only one I have a date for is my favorite place to get lambchops: Aurora, located on Balboa Blvd about halfway inbetween Woody's Wharf and Mutt Lynch's (2305 W Balboa Blvd).
Starting at 3pm, they will be serving free food to area locals until– if you haven't eaten here yet, you're officially out of excuses as of Sunday!  They will also be celebrating their first full year of business under the new owners… hurrah!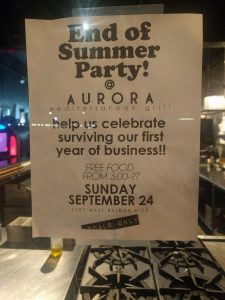 Balboa Saloon is known for their annual potluck, but I have not heard any solid dates on that so far this year.
I am sure I am missing some, so let me know where those are too, please!
And don't miss out Sunday afternoon starting at 1pm for the Balboa Island Carnival and Taste of the Island, which will include such events as Carnival Games, Bungee Jump for the Kids, Wine & Beer Garden, and my personal favorite, the Pie-Eating Contest.
What are your plans this weekend, now that the tourists have left us all alone with the beach and the great weather? 🙂
Comments
comments