After 19 months of battling between local, regional, county, state, and federal governments, Scott Peotter has had enough of the bureaucracy, and he has agendized our Dog Beach access!
Scott was first-in when it came to supporting the Dog Beach, so this isn't some stunt he is pulling in response to the people who dislike him because they say he is a big ole meanie-head.  He was at the meeting announcing the change with County Supervisor Michelle Steel, CA Assemblyman Matt Harper, then-councilman Keith Curry, and many others.  He even wore a "Save Dog Beach" hat for the event!
But let's return to the people who want to recall him because they find him "offensive": These people need to get a grip.  If Peotter's votes were notably worse than anyone else's on council, then that would be one thing, but he's one of the best votes on the council, instead.  When a petition was launched to put the building of the Museum House to a public vote, everyone but Peotter and O'Neill were so scared that they simply reversed their votes to support it, whereas O'Neill and Peotter voted to do what the petitioners requested: to put it to a public vote.  Now, those same petitioners are using that same vote and claiming that it wasn't good enough, and that what they meant by "put it to a vote" was "don't actually put it to a vote".  Bizarre, right?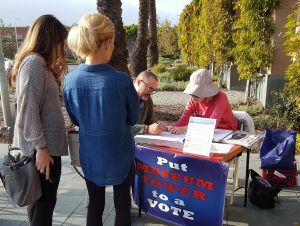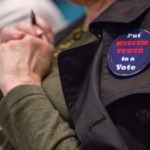 The rest of their reasons surround the fact that Scott has outdated ideas about gay marriage.  Big deal.  City Council votes on property rights and fiscal issues, not civil liberties.  Yeah, I'd probably say that his views qualify as a homophobic, but we've all worked with people who we disagree with politically before, but if they are doing a good job at the one thing they are tasked to do, we don't fire them and replace them with someone unproven who we would then have to re-train.  It makes no sense.
They also say Scott called them liars.  Scott did.  He's kind of a blunt guy, and he thought they were lying, so he said so– but once again, that was about a year ago or so.  And it's nothing compared to what Dixon did just a few months ago when she actually knowingly lied from the dais in an attempt to shame and discredit activists.
They also accuse Scott of using the city seal in his campaign emails– Scott used a photo containing the American Flag and the Seal of Newport (not the seal itself).  However, that was over two years ago, and he already said he wouldn't do that no-no again.  However, Diane Dixon used the city seal while sending non-government documents from her private email address to actual official government sources, countermanding her public position on Dog Beach and attempting to undermine support for the spot for our four-legged friends (and after being asked for those documents, she illegally destroyed them, instead).
Here's a graphic and a full rebuttal of what is on recallscottpeotter.com: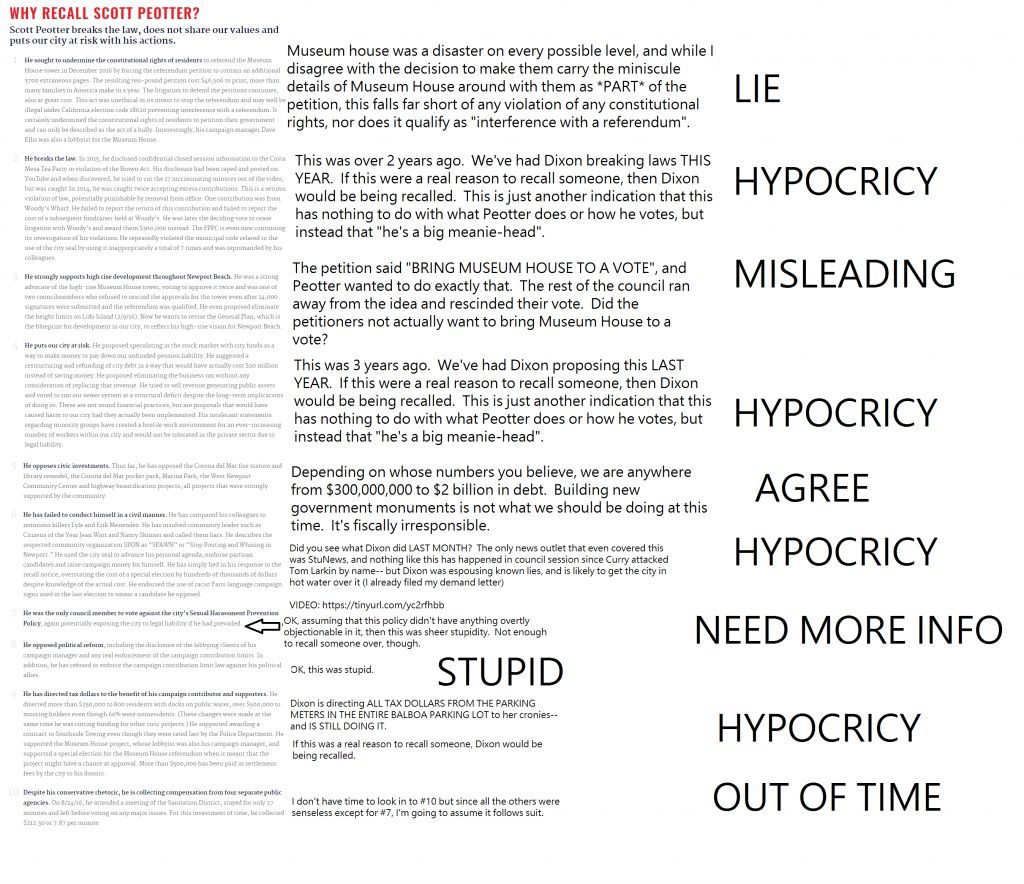 But let's shift gears back to dogs!
What can you do to help Peotter to help us?  Contact your local representative!  Ask them to stand strongly by their words and support Dog Beach!  And for heavens sake, don't sign the stupid recall petition.  If you already have, you can rescind your signature by filling out and mailing this form: tinyurl.com/peotterwithdrawal
Here is how to contact the rest of the council, and their showing of support previously:
Here are letters of support from our Assemblyman Matt Harper, and all of the last council (including 4 of the current council):
Dog Beach Support – Assemblyman Matt Harper
Dog Beach Support – Newport City Councilman Petros (previous council)
Dog Beach Support – Newport City Councilman Muldoon (kmuldoon@newportbeachca.gov)
Dog Beach Support – Newport City Councilman Curry (previous council)
Dog Beach Support – Newport City Councilman Selich (previous council)
Dog Beach Support – Newport City Councilman Peotter (speotter@newportbeachca.gov)
Dog Beach Support – Newport City Councilman Duffy (dduffield@newportbeachca.gov)
Even Newport City Councilwoman Dixon wrote in to declare her official support for Dog Beach… but then she rescinded it later on in a secret email, and when we legally requested the document in a fashion that would have compelled her to release it to us, she illegally destroyed it instead.  Thankfully, we have other sources here at SaveNewport, and we received the document, here: Dixon Dog Beach Rescision (ddixon@newportbeachca.gov)
And all of the new council people pledged to support Dog Beach during their election, here:
In this video are newly elected councilpeople:
Jeff Herdman (jherdman@newportbeachca.gov)
Will O'Neill (woneill@newportbeachca.gov)
and Brad Avery (bavery@newportbeachca.gov)
Please write to each of the new people to make sure that they aren't what we all hate: Lying politicians.
At least we know Scott Peotter isn't!
Comments
comments