Back in February of this year in her Townhall meeting, Councilwoman Diane Dixon proposed getting rid of all bicycles on the boardwalk.  I asked how many injuries happen per year in order to warrant this, and she said she had no idea, but that it was "a whole lot, trust me".
So, I utilized the Public Document Request Act and found out how many "traffic accidents" occurred on Oceanfront Blvd (aka, the boardwalk).  The grand total reported from 01/01/2014 and today are 26 accidents with 5 "possible injuries".  Keep in mind, these accidents could also be from cars or bicycles which were adjacent to the boardwalk and used E Oceanfront as a cross-street, so they are doubtlessly erroneously high.  Check it out for yourself, here: https://apps.newportbeachca.gov/quest/attachments/264045_RecordsCopier@nbpd.org_20170221_164617.pdf
For a boardwalk that sees 10million visitors per year, having 5 "possible injuries" over three years provides us with odds of 1 in 6,000,000 of having a "possible injury" on the boardwalk.   For comparison, the odds of being struck by lightning are 1 in 960,000.  Sure– not all injuries are reported, but you get the picture here.
After launching the petition against the proposed Bike Ban, Dixon wrote me claiming that she never supported a Bike Ban, saying "I have not proposed, nor have I heard anyone else on the City Council propose, a ban on all bicycles on the Boardwalk".  However, this denial is proveably incorrect for the following three reasons:
At the Feb 6th meeting, Dixon conducted a straw poll of the attendees, asking "How many of you would like to see all bicycles banned from the boardwalk?"
Not convincing enough?  Here are two proposals, one for banning eBikes, and one for banning all bikes, as I took this photo from my seat at her event:
Her staff put considerable time and effort into creating these slides, and presented them at her meeting.  This was not accidental, and staff doesn't decide for themselves what to dedicate their time to or what to show at Dixon's meetings.
Still not convinced?
3. View the video at the Study Session and ask yourself whether or not the staff was studying ALL bikes, or just e-bikes.  The fact is, staff doesn't even mention eBikes during their presentation until they are responding to questions of eBikes by Council.  Watch it for yourself, here: Study Session item #SS3, at http://newportbeach.granicus.com/MediaPlayer.php?view_id=44&clip_id=2550
So, Dixon is lying.  Just like she did with Lights out at 11pm.  Just like she did with Dog Beach.  Now she is lying about the Bike Ban.  I am sure you are all shocked.
So is speeding even a problem on the boardwalk?  Well to answer that, let's look into how speed limits are set to begin with!  Speed limits are set to the 85% threshold of how fast people typically go on roads.  (Contrary to popular belief, there is no statistical relation to frequency of accidents and speed of vehicles.)
Here is the Department of Transportation's guide on how to set a speed limit: http://www.dot.ca.gov/trafficops/camutcd/docs/california-manual-for-setting-speed-limits.pdf
Luckily for us, the city has already conducted a speed survey, as follows on their slide: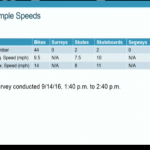 This shows 44 bikes travelling at an average of 9.5mph.  It also shows 2 skates and 2 skateboarders travelling at 7.5 and 10 mph, respectively.  If we average them all together, we have an average speed of 9.4375mph.  If we take that and multiply it by the 85% threshold, we get "8.021875mph"– so technically, the boardwalk is 0.021875mph below what the speed limit should be.  In fact, even city staff agrees that the top speed recorded (14mph) was safe, saying [with] "less congestion on the path, cyclists travelling at 14 appeared to be in control and operating in a safe manner for the conditions."
But do we even enforce against speeding on the boardwalk?  No, not really.  In fact, all of the past year combined has resulted in just 15 speeding tickets (vehicles types were not specified).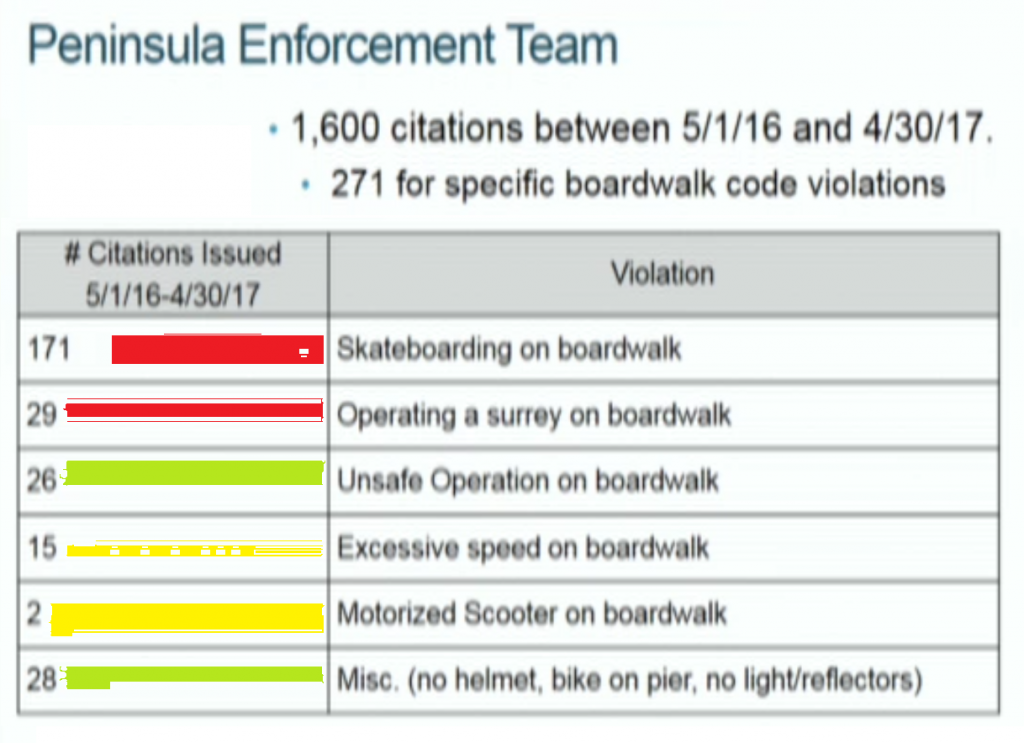 So if speeding is not a problem, why on earth are we banning bicycles?
Dixon has stated that "the boardwalk is too narrow for bicycle traffic to be mixed with pedestrian traffic safely".
So apparently this has nothing to do with speed and everything to do with width.  She's going to try to start with e-bikes, but rest assured… our traditional bikes will be next.
Here is who voted to "explore banning e-bikes", to start with:
Councilman Brad Avery (bavery@newportbeach.gov)
Councilwoman Diane Dixon (ddixon@newportbeach.gov)
Councilman Jeff Herdman (jherdman@newportbeach.gov)
Mayor Pro Tem Duffy Duffield (dduffield@newportbeach.gov)
Here is who REFUSED to vote for even the start of the BIKE BAN, even in e-bike form (aka the good guys!):
Councilman Scott Peotter (speotter@newportbeach.gov)
Councilman Will O'Neill (woneill@newportbeach.gov)
Mayor Kevin Muldoon (kmuldoon@newportbeach.gov)
I'm going to stand up against the bike ban, even if it starts with e-bikes first.  Will you join me?  Please: Sign the attached petition!
Your email address will not be sold, shared, or spammed.
Supporters:

Latest Signatures
810
Jayne Crofoot
Mar 21, 2018
809
gary fisher
Feb 12, 2018
808
Carlos Lucero
Dec 31, 2017
807
Justin Scalzi
Oct 18, 2017
806
Chris Hinds
Aug 04, 2017
805
Jennifer Urmston
Jul 28, 2017
804
leslie connell
Jul 04, 2017
803
Annie Carruthers
Jul 04, 2017
802
Barbara Crawford
Jul 04, 2017
801
Donna Morrison
Jul 04, 2017
800
Hal Pisors
Jun 20, 2017
799
Brandon Williams
Jun 18, 2017
798
Amy Adair
Jun 18, 2017
797
Cory Adair
Jun 18, 2017
796
Jim Reynolds
Jun 16, 2017
795
Michelle Hansen
Jun 15, 2017
794
Susan Burns
Jun 15, 2017
793
Candice Castaneda
Jun 14, 2017
792
Carrie Spence
Jun 13, 2017
791
Joni Martin
Jun 13, 2017
790
Bob D'Eliscu
Jun 12, 2017
789
Craig Hunter
Jun 12, 2017
788
Keri Williams
Jun 11, 2017
787
Rebecca Williams
Jun 11, 2017
786
Jennifer Dessort
Jun 11, 2017
785
Kevin Bury
Jun 11, 2017
784
Steve Miller
Jun 11, 2017
783
Mark Kruse
Jun 11, 2017
782
Alan Buchanan
Jun 11, 2017
781
Jonathan Richards
Jun 10, 2017
780
Chadd Patton
Jun 10, 2017
779
Greg Ruggles's
Jun 10, 2017
778
Denny Moulton
Jun 10, 2017
777
Rosemary Di Sano
Jun 10, 2017
776
Elysabeth Olah
Jun 10, 2017
775
David Di Sano
Jun 10, 2017
774
River Mungall
Jun 10, 2017
773
Michael Di sano
Jun 10, 2017
772
Daniel Walters
Jun 10, 2017
771
Christine Neumann
Jun 10, 2017
770
Sierra Caldwelll
Jun 09, 2017
769
Lauren Stuart
Jun 09, 2017
768
Stephen Davenport
Jun 09, 2017
767
Allan McGraw
Jun 09, 2017
766
Dominique Phavongsay
Jun 09, 2017
765
Darelyn Maas
Jun 09, 2017
764
Diana Dias
Jun 09, 2017
763
Ned Smith
Jun 09, 2017
762
April Bowers
Jun 09, 2017
761
Jerry Dino
Jun 09, 2017
< >
Comments
comments