As you all know, we've been advocates for Dog Beach for the more-than 18-months since Dixon initially attempted to get rid of it.  However, with your help, we secured a 7-0 vote from Newport's Parks and Recreation and a 5-0 vote from the County of Orange to implement Dog Beach.  In addition to that– thanks to your public pressure, Diane Dixon actually wrote a letter in support of Dog Beach along with all 6 other council members.  However, a lot has changed since then, and Dog Beach has had a mystery person behind the scenes who has been attempting to stop us at ever corner.
Here's the new lay of the land:
First, Dog Beach is NOT official yet.  The County required a second reading of the ordinance, but someone alerted the Coastal Commission, California Fish and Wildlife, and a whole schlew of other agencies and nonprofits.  These people– armed with horribly inaccurate information– came out to fight against Dog Beach.  As it turns out, though, once we got the opportunity to explain that this is NOT going to interfere with the Least Tern preserve and that not once in history has there ever been a documented "take" on the endangered birds by dogs, every single agency eventually backed down– except the Coastal Commission, who we have not had a chance to meet with, yet.
During this time, we rotated out councilmembers for new members– but all of those new members have already pledged their support for Dog Beach as well.
As everyone knows the area is safe, the signs warning of "DANGER ZONES" have gone largely discounted– but that is where tragedy struck.  Due to these signs being put in safe areas, some assumed that the signs themselves meant nothing anywhere, and because Dog Beach has not yet become official, warnings of where the danger zones actually were went unheeded.  This, tragically, led to the death of a dog named Rupert as he was pulled into a stormdrain in the area that is actually dangerous.  His owner said she saw the signs but ignored them because they meant nothing elsewhere– so why should they mean anything here?  This is the danger of not making dog beach official, and the price that a community member paid was the life of her dog.  I cannot say how horrible this is– this isn't just for fun– we need to make this official for safety purposes.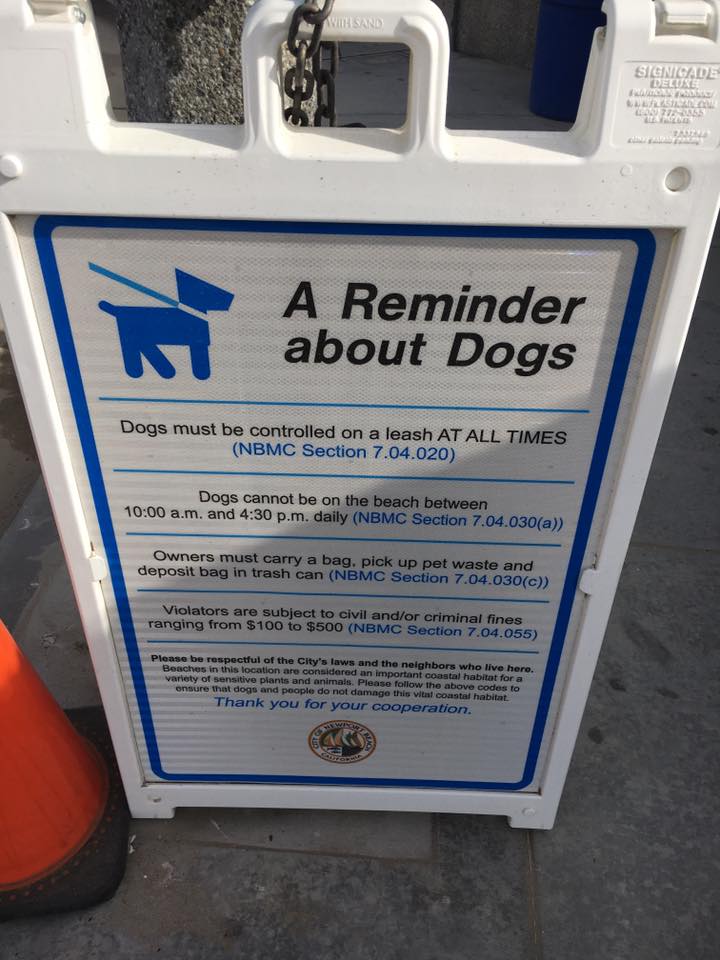 So why has the city spent your taxpayer money to launch a new campaign against Dog Beach, putting no fewer than eight "flipboard" signs at the mouth of Dog Beach warning that "dogs are illegal on beaches"?  Why did the NBPD go on a Twitter Storm stating that dogs on the beach are not allowed?  Who contacted these agencies and gave them such horrible information that they are making nonsensical remarks and have held up the legitimizing of Dog Beach for over a year and a half now?
The answer to at least some– and potentially all– of those questions is just a single person: Diane Dixon.
Writing from her private and non-government email address, Dixon used the city seal and official city letterhead to pen emails to government agencies telling them that– despite supporting it in the past– she no longer supports Dog Beach, and that it is "dangerous".  When we did a Public Document Request Act (basically the CA-version of the Freedom of Information Act), she said that she had no responsive documents– but that's not what other government agencies said, and they gave us the documents.  This means either Dixon is illegally deleting her correspondence on these matters, or she is willfully violating CA Public Records law and refusing to hand over documents that she has in her possession.  These actions are in violation of multiple city policies and also in violation of state law, but there appears to be no actions which the council is going to take to remedy this.
In short: We have found the source of the problem here, and that's where we will need your help, once again.  If you haven't already, please sign the Dog Beach petition below and share this with your friends.  We will be figuring out a plan on how to deal with this persistent problem and threat to our four-legged friends, and I will be updating you both here and through email on how we can be most effective at making Dog Beach both official and safe.
Your email address will not be sold, shared, or spammed.
Supporters:

Latest Signatures
6,016
Kaila Heller
Mar 30, 2018
6,015
Steve Kuver
Mar 02, 2018
6,014
David Bowers
Jan 05, 2018
6,013
Newport Beach Active Paws Newport Beach Active Paws
Nov 28, 2017
6,012
Christopher Cowie
Nov 28, 2017
6,011
Mary Kvech
Oct 28, 2017
6,010
Kevin Clark
Oct 27, 2017
6,009
Karen Carboni
Sep 27, 2017
6,008
Jesseca Mendoza
Sep 27, 2017
6,007
Amy Ninh
Sep 27, 2017
6,006
Jon Muller
Sep 26, 2017
6,005
Andrew Magpayo
Sep 25, 2017
6,004
Jeremy Chung
Sep 25, 2017
6,003
Lynn Gosselin
Sep 25, 2017
6,002
Anita Seiveley
Sep 25, 2017
6,001
Christine MacDonald
Sep 25, 2017
6,000
Kaipo Ruiz
Sep 25, 2017
5,999
Greg Ozimec
Sep 25, 2017
5,998
Shawn Dewane
Sep 25, 2017
5,997
Lorraine Alegria
Jul 10, 2017
5,996
Bianca Rodriguez
Jul 09, 2017
5,995
Mercene Shogren
Jul 09, 2017
5,994
Gary Perez
Jul 08, 2017
5,993
Steve Smith
Jul 08, 2017
5,992
Mike Hilford
Jul 05, 2017
5,991
Candace Hartjoy
Jun 29, 2017
5,990
Kathleen Malerstein
Jun 28, 2017
5,989
Stephanie Harmon
Jun 27, 2017
5,988
Christine MacDonald
Jun 26, 2017
5,987
manda Luong
Jun 26, 2017
5,986
Melisa Alven
Jun 26, 2017
5,985
john nguyen
Jun 26, 2017
5,984
thuy le
Jun 26, 2017
5,983
Melissa Dudding
Jun 26, 2017
5,982
Marie Birmingham
Jun 10, 2017
5,981
Frances McGinnis
Jun 07, 2017
5,980
Jesseca Mendoza
Jun 04, 2017
5,979
Mindee G.
May 27, 2017
5,978
Olivia Hodges
May 25, 2017
5,977
Dennis ferncez
May 24, 2017
5,976
Kevin Grams
May 24, 2017
5,975
Sean Grams
May 23, 2017
5,974
Diana Kuykendall
May 23, 2017
5,973
Troy Knott
May 23, 2017
5,972
Pamela Johnson
May 23, 2017
5,971
Britten Burdick
May 23, 2017
5,970
reyn stokard
May 23, 2017
5,969
Ian Campbell
May 23, 2017
5,968
Christine Jade
May 23, 2017
5,967
madeline miller
May 23, 2017
< >
Comments
comments