It's that time of year again!  Recognized as a "can't-miss" local event and recently hailed as "one of the top ten holiday happenings in the nation" by The New York Times, this year's 108th annual Boat Parade is truly a magical holiday tradition enjoyed annually by everyone in and around Newport Beach's beautiful Harbor.
For those planning to travel on the Balboa Peninsula, please consider carpooling, Ubers, and/or arriving early, as traffic and parking are always problematic for this event.
DATES: December 14, 2015 – December 18, 2015
TIMES: 6:30 pm – 9:00 pm each evening, starting at Bay Island, moving towards the mouth of the bay, then wrapping around the harbor to Bay Island again.  There will be fireworks opening and closing the event, on 6:15pm on Wednesday @ Newport Pier and 9:05pm Sunday @ Balboa Pier.
Wednesday, December 14
6:15pm Fireworks @ Newport Pier
6:30pm Parade begins
Grand Marshal: Mickey Mouse from the Disneyland® Resort
Thursday, December 15
6:30pm Parade begins
Grand Marshals: Salute to Local Olympians
Friday, December 16
6:30pm Parade begins
Grand Marshals: Alumni from the hit NBC singing show "The Voice"
Saturday, December 17
6:30pm Parade begins
Grand Marshals: 2016 A Special Salute to Hometown Heroes
Sunday, December 18
6:30pm Parade begins
Grand Marshals – Members of the USC Trojan Marching Band
9:05pm Fireworks @ Balboa Pier
Here is a photo of the route that will be used this year: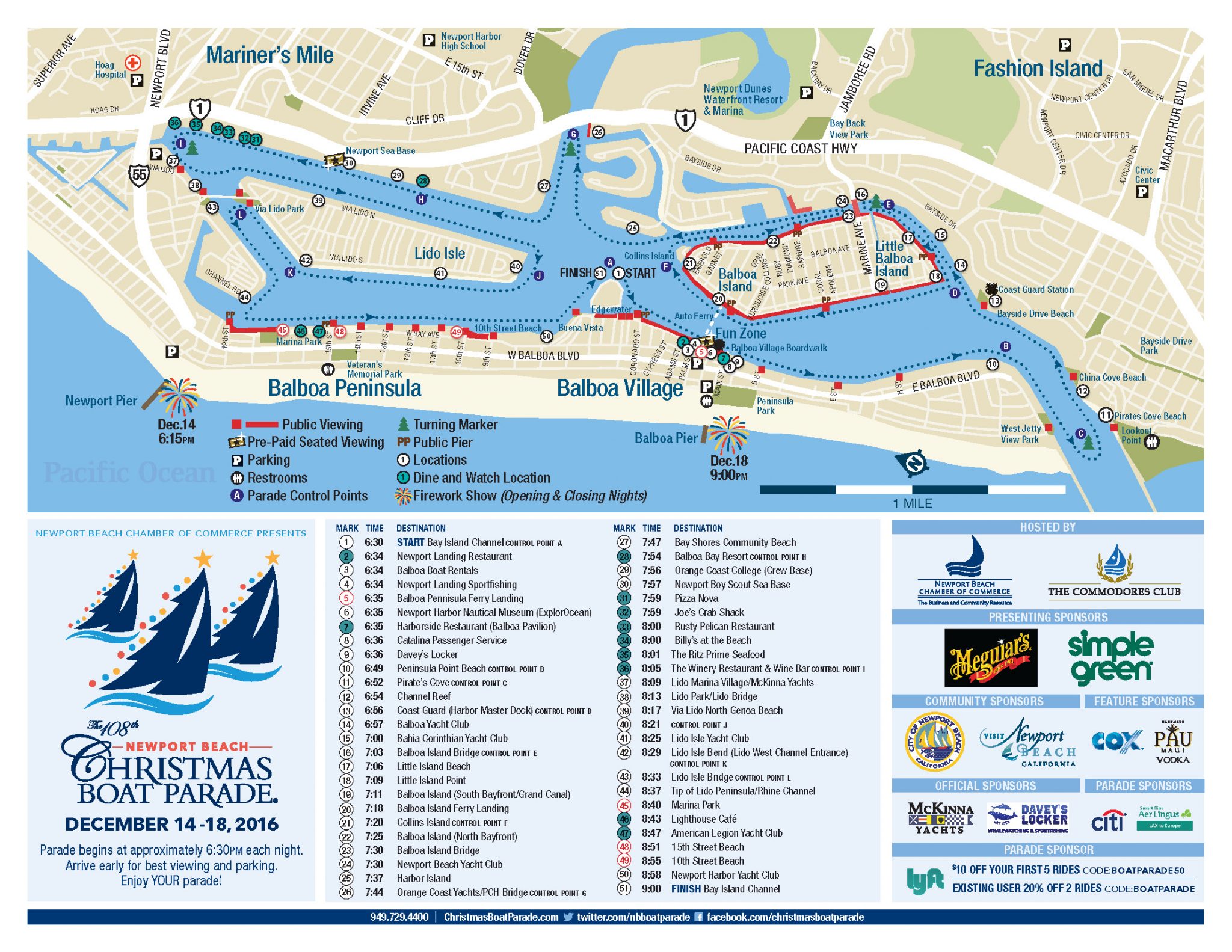 Where will you be watching from?
Comments
comments