It's been a long time coming, but it takes a while to count votes! Nearly a month ago people throughout Orange County cast their votes for the OC Registrar to tally up.  If you weren't registered to vote and you cast a ballot anyway, those votes were sadly not counted (don't let it happen again, REGISTER TO VOTE HERE! : http://savenewport.com/vote)
Here is how the voting map looked for District 5: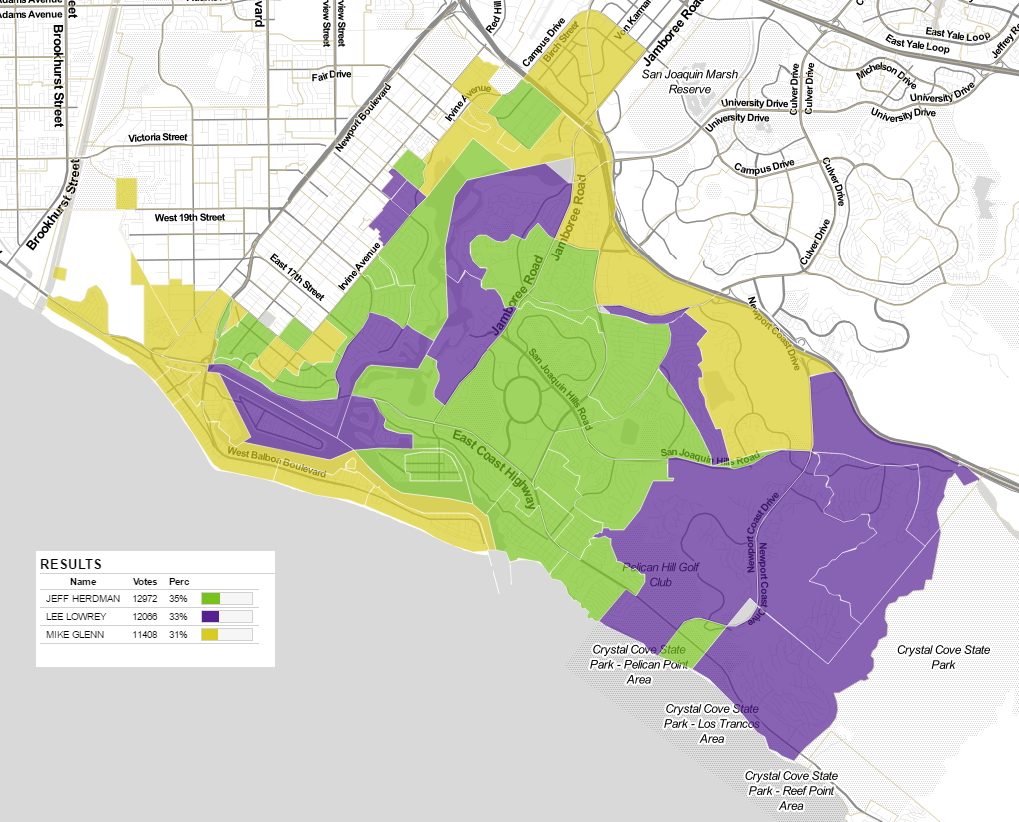 Assuming a positive outcome of the peninsula, I spent my time walking and knocking on doors in other neighborhoods, (where it obvious by the map).  I admit that not walking a single home in the district I've lived in for a dozen years was terrifying, but our friends, neighbors, and businesses all pulled through to secure the area– THANK YOU!  With that time saved, I was also able to capture the northernmost sections of our city, which you can clearly see on the map.
Including PACs and campaign money, this is how we stack up with the competitors when it comes down to cost per vote:
| | | | |
| --- | --- | --- | --- |
| | MG | LL | JH |
| PERCENT | 31.3% | 33.1% | 35.6% |
| VOTES | 11,428 | 12,073 | 12,986 |
| CASH | $30,168 | $175,829 | $82,366.61 |
| COST/VOTE | $2.63 | $14.56 | $6.34 |
* NOTE: We don't know how much political parties like the Republican and Democrat parties spent, nor do we know the total number of dollars spent in polling hit pieces, as one is labeled in a hodgepodge for all of OC as "Party-building" and the other one isn't reportable because it's considered "information gathering", but we do know that polling costs about $22k from the oft-used parties, so the total is *at least* $100k higher.  This would mean that I was outspent by 11.5 times– quite a lot of money to spend for a job that pays about $700/mo after taxes!
So how did Newport stack up against the rest of OC, the State, and the USA?  Check out the data, below:
Newport
OC
California
USA
President

Trump @54.4%

Hillary @ 50.9%

Hillary @61.7%

Hillary @50.8%

(Trump wins Electoral)

US Senate
Harris @57.9%
HARRIS @53.3%
Harris @62.3%
NA
US Congress
Rohrabacher @66.8%
ROHRABACHER @58.3%
NA
NA
State Senate
Moorlach @70.01
MOORLACH @57.0%
NA
NA
State Assembly
Harper @68.6%
HARPER @56.2%
NA
NA
Prop. 51 – K–12 And Community College Funding Bond
NO @57.6%
YES @49%

YES @55%

NA
Prop. 52 – Private Hospital Fees For Medi-Cal
YES @63.1%
YES @67.2%

YES @70%

NA
Proposition 53 – Voter Approval of Revenue Bonds
YES @57.6%
YES @57.1%

NO @51%

NA
Proposition 54 – Legislation and Proceedings and the Legislature
YES @73.8%
YES @69.8%

YES @65%

NA
Proposition 55 – Tax Extension for Education and Healthcare
NO @66.2%
YES @53.9%

YES @73%

NA
Proposition 56 – Cigarette Tax
YES @59.8%
YES @60.9%

YES @64%

NA
Proposition 57 – Juvenile Criminal Proceedings and Sentencing
YES @59.99%
YES @58.0%

YES @64%

NA
Proposition 58 – English Language Education
YES @62.5%
YES @60.2%

YES @74%

NA
Proposition 59 – Campaign Finance: Voter Instruction
NO @59.5%
NO @53.4%

YES @53%

NA
Proposition 60 – Adult Film Condom Requirements
NO @60.80%
NO @53.4%

NO @54%

NA
Proposition 61 – State Prescription Drug Purchase Standards
NO @60.79%
NO @55.6%

NO @53%

NA
Proposition 62 – Death Penalty Elimination
NO @62.4%
YES @60.2%

NO @53%

NA
Proposition 63 – Firearms and Ammunition Sales
YES @57.0%
YES @59.5%

YES @37%

NA
Proposition 64 – Marijuana Legalization
YES @53%
YES @52.0%

YES @57%

NA
Proposition 65 – Carry-out Bag Charges
NO @57.9%
NO @56.9%

NO @54%

NA
Proposition 66 – Changes Death Penalty Procedures
YES @71.4%
YES @59.1%
YES @51%
NA
Proposition 67 – Ban on Single-use Plastic Bags
NO @58.2%
NO @56.9%

YES @53%

NA
City Council
Brad Avery @ 58.3%
Jeff Herdman @ 35.6%
Will O'Neill @ 49.9%
NA
NA
NA
City Measure MM (tax increase restrictions)
YES @ 81.2%
NA
NA
NA
Comments
comments