Newport dogs need you! … And we've got the perfect pup for you to rescue who needs a forever home.
Ellie is a Australian cattle dog who weighs in at a petite 35lbs.  The white specks on her back are typical of the breed and aren't a sign of her going gray– she's only 11 months old!
She's known as a blue-heeler due to her dark color as a cattle dog, and her breed is amongst the most intelligent dog breeds, making her easily trainable, in addition to being energetic and extremely agile.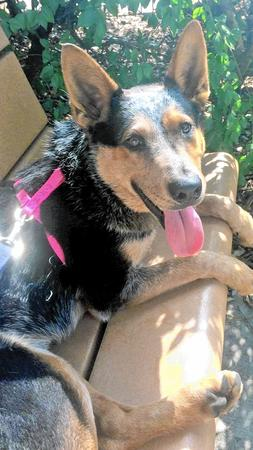 FAQ:

1) Are your dogs all spayed/neutered?
YES!
2) Are they all microchipped?
YES!
3) Are they up-to-date with all their vaccinations?
YES!
4) How much will this cost me?
Just $100 to adopt this beautiful dog.

Home Free Animal Rescue & Sanctuary

20302 Riverside Drive, Newport Beach, CA 92660
Phone:     (949) 370-2776
E-mail: kathy@homefreerescue.org
www.homefreerescue.org
Home Free Animal Rescue & Sanctuary is a registered 501c3 organization and operates out of a facility in Newport Beach.  They provide housing and care for the shelter animals of the City of Newport Beach.  Most of dog rescues come pre-screened from the Orange County shelter on their last day or two, but they have also rescued dogs from Riverside and San Bernardino county shelters.  Home Free Animal Rescue & Sanctuary is not a breed-specific shelter.  Their mission is simple: help dogs in need find their new forever homes.
Comments
comments