This Throwback Thursday has a place to visit!  Jump in to get some awesome food at a discount, and grab some 40th year anniversary memorabilia while you are at it!  The staff is doubled-up on this day and is able to quickly seat people who visit.  When I visited last Thursday with a co-worker, we immediately found seats at the bar and I grabbed the Chile Verde.  Many on this site commented on the Avila's Soup, which I had tried the prior Thursday.  Both were outstanding… but not to get sidetracked:
Every Thursday for the month of April, beginning on April 2nd, El Ranchito on the Balboa Peninsula will be celebrating their Birthday Month by serving up their historic lunch and dinner menus with their prices from when they opened in 1975… 40 years ago.
This special deal and 40th birthday celebration only applies to the Balboa Peninsula location (they have 11 locations in total), and the specials that apply to this deal will rotate each Thursday of the month. Items will include their famous Carnitas, Mama Avila's Soup (amazing), and combo plates where guests can choose one or two of the following items created by Mama Avila 40 years ago: Soft Taco, Enchilada, Chile Relleno, Taquitos or Tamales.
Here's their menu from last Thursday (which changes each Thursday):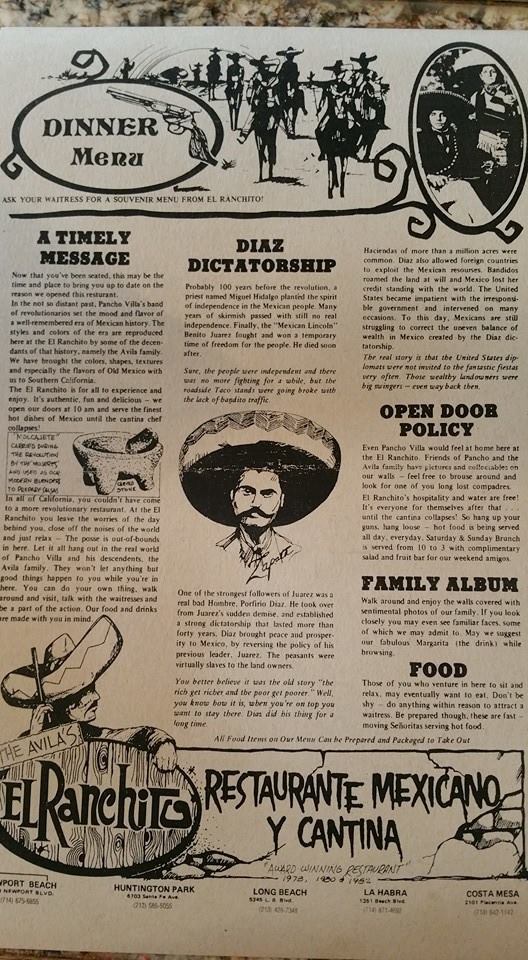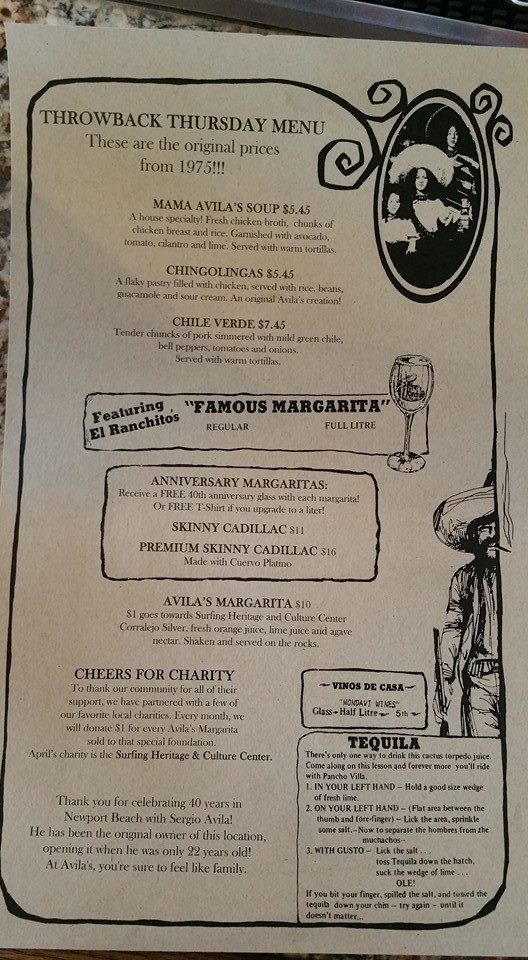 Location
Avila's El Ranchito
2800 Newport Boulevard
Newport Beach, CA 92663
(949) 675-6855

Times:
Sunday:        9am – 10pm
Monday:      11am – 10pm
Tuesday:      11am – 12am
Wednesday: 11am to 10pm
Thursday:     11am – 10pm
Friday:          11am – 10pm
Saturday:      9am – 10pm
Happy Hour:
Monday – Friday 3-6pm
Comments
comments